Heating Repairs & Installation To Properly Care For Your Puyallup Property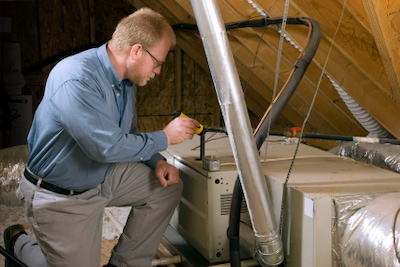 The heating repairs & installation experts at HVAC Service Pros are the first line of defense for ensuring that your Puyallup property's heating system operates efficiently, safely, and at peak performance. Our team of heating repairs & installation professionals are committed to providing you with service that's timely, efficient, and minimally invasive.
We service all makes and brands of equipment and offer up-front pricing and clear explanations for all of our services - and we offer 24/7 emergency repair services for added peace of mind. To request a free quote for heat pump, boiler, or furnace repairs and installation in the Puyallup area, give us a call today!
Upgrading With Replacement Heating Equipment Installation
When you're ready to upgrade your Puyallup property's heating equipment, HVAC Service Pros has you covered. Our sales team works for you - they're not paid on commission - so you'll never have to worry about upsells or high-pressure tactics. We'll help you choose the right replacement heating equipment or HVAC system to meet your needs:
Boilers
Furnaces
Hydronic and radiant heating
Geothermal heat pumps
Our mission at HVAC Service Pros is to deliver the highest level of quality when it comes to our heating repairs & installation services. Schedule a visit with us today and become part of the HVAC Service Pros family. You'll be in good hands with our team of HVAC specialists because we're not comfortable until you're comfortable.
Heating Maintenance Plans To Meet Your Needs
Routine heating maintenance, tune-ups, and scheduled service can keep your heating system operating at peak performance - and extend the life of your heating equipment. HVAC Service Pros offers a multi-tiered maintenance plan to fit your Puyallup property's needs and your budget.
The HVAC system is often the most overlooked portion of your home, but it requires the most attention. Heating maintenance can even reduce the need for heating repairs for Puyallup properties. To set up a custom-tailored maintenance plan for your home or business in Puyallup and the surrounding communities in Pierce, King, Thurston, Lewis, and Kitsap Counties, call HVAC Service Pros today at 253-361-6236.
Benefits Of A New Heating System For Your Puyallup Property
In this day and age, residential HVAC equipment has become more sophisticated - and complex- than it was even a decade ago. The team at HVAC Service Pros is up-to-date on the latest HVAC equipment and can install a system that will provide you with a number of benefits, including:
Consistent comfort and coverage
Improved air quality
Less noise
Fewer needed repairs
Environmentally-friendly options
Lower energy costs
Integrated technology
If you're looking for a heating repairs & installation professional in the Puyallup area, contact HVAC Service Pros using our easy online form or give us a call today to schedule a free consultation.
Contact HVAC Service Pros For All Your Heating & Air Conditioning Needs!